27 Sep

63 Small Living Room Decor Ideas To Outsmart That Limiting Floorplan

Decorating a living room is one task, but decorating a small living room is task and half.

But with the right tips and tricks, you can make your tiny living room pretty, functional and inviting.

Here are 63 small living room decor ideas to create a space that you'll never want to leave.
Small living room decor made easy
1. Plan your layout
​
Picture this:
You decide to decorate your small living room.
You go online, search for small living room ideas, and fall in love with a modern sofa.
Before you know it, you've entered your credit card details, and the sofa is sitting in your living room within a week.
After an hour of the thrill, you realize that it's too big for your tiny living room.
That's due to a lack of planning.
So make sure you plan everything beforehand when space is so limited. Here are a couple of no-brainers:
1. Make sure that the layout is functional for your needs. I'll talk about it in a bit.
2. Confirm the sizes of the pieces.
Read More: 31 Farmhouse Decorating Ideas for Living Rooms
2. Answer: what will the room be used for most?
​
If you don't know how to plan your layout, first decide what the room will be used for.
I know it's common to think of guests when planning your living room layout.
But most probably, you and your family will use it most of the time. So keep that in mind when designing your small living room.
3. Consider your furniture
​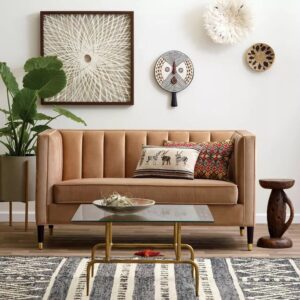 A good piece of furniture will elevate any living room instantly.
But in the case of small living room decor ideas, you have to be extra careful.
You can't just throw a couple of furniture items and hope they'll work.
For starters, consider all the pieces of furniture you'll need to create a functional yet cute space.
Ask yourself questions like:
Would stools or ottomans be more practical in the living room?

Would a side table fit the room better than a coffee table?
That said, you don't have to worry because I have you covered: I'll discuss plenty of furniture ideas for small living room below so you can create a welcoming, livable space.
4. Strategize with mirrors
​
@futureplc/mark luscombe-whyte
Call on mirrors if you have a small living room that could look more spacious.
By adding more living room mirror ideas, create the illusion of space by reflecting light and the room interior decoration.
You can bring a small round wall mirror.

Or go really big like the above picture.
This old trick will work both ways. But for an overall effect, choose light colors and an airy feel.
5. Don't ignore light: it's an essential design feature in any small space
​
@katie and stefan/doornumbereleven
You should have light (whether natural or artificial) in every room. There's no doubt about that.
But in a small space, its importance is unmatched.
Specifically, you want to let go of the heavy window treatments and other things that block out natural light.
If you want, you can add curtains or shades but these things should help the light in.
Here are a few living room lighting ideas:
On an end table, you can bring interesting lamps and light fixtures that make a statement.

Add wall sconces because they brighten a wall and give a fun detail.

Don't ignore corners and the area behind the couch: that'll brighten the room.

Add a light on the ceiling to draw the eyes up.
6. Take advantage of high ceilings
​
@elizacarter
This room has limited square footage. Some people might consider it a problem.
But it still has lots of personality-packed patterns in the ceiling-high curtains, which helps elongate the room.
Plus, the clean-lined furniture prevents the room from being cluttered.
7. Keep it cozy
I know you want to go for warm colors:
And in normal setups, it's a good idea. But in the case of small spaces, you'll make the room feel more congested.
Instead, go for classic and simple colors not only for the walls but the whole room: that'll help establish a flow throughout the room.
How do you decorate a small living space?
Start with cleaning the clutter.

Then, choose light colors like white, cream, and grey because they are great for small spaces.

Once you have a light scheme, spruce it up with plants wicker, or books.

And when it comes to room furniture, stick to compact furniture that has built-in storage.
8. Factor in textural pieces
​
@robert mckinley studio
I talked about using light colors in the room above. And as you know, one of the most common light shades is white.
But there's a problem with white: it can leave the room feeling clinical and stark.
So pile textiles and rugs in neutral tones. Mix and match fabrics and textures to show some personality.
For a country living room idea, think leathers, woods, sisal and raffia to take the chill off a compact nook.
9. Use paint to trick the eye
​
@future plc/dan duchars
Living room wall ideas should be more than for decoration purposes.
You'll want to use them to make the room appear taller, and a great way to do that is by using paint thoughtfully.
For starters, you can paint the bottom half of the wall in your favorite bright shade. Then, paint the top half and the ceiling in a more neutral shade.
Result?
An open room with tons of personality!
10. Boost light with floor to ceiling windows
​
@future plc/carolyn barber
Want to maximize space in your small living room? Focus on decluttering, keeping your floor clear, and letting more natural light come in.
You might already know how vital natural light is when it comes to small spaces.
To double down on natural light, incorporate big windows; I'm talking floor-to-ceiling, wall-to-wall windows.
Bonus: If you have a natural backdrop, it'll amp up the sense of light and space.
11. Keep your colors cohesive
Cohesive colors blend together and don't make the room over the top.
So use color wisely when it comes to furniture, accessories and wall color.
Once you're done with deciding the colors, add a few plants to breathe life into your living room.
12. Create consistency
​
@studio indigo / andrew beasley
A single living room color scheme on walls and woodwork makes the room feel bigger.
Contrast is good in some cases, but in the case of small spaces, it lets you know about the confines of the space. So use the same color on walls, woodwork and furniture.
13. Introduce nature
​
@vsp interiors
If you've been learning how to decorate your home, you know that plants are a home decor staple; I mean they look great and literally breathe life into any space.
But when it comes to small living room ideas on a budget, they really open up a space.
And if you combine them with other tricks, like mirrors and light airy living room color schemes, this design trick will work really well.
14. An upholstered ottoman: your coffee table, footrest and extra seating
​
@les ensembliers
Talking about furniture, a good idea is to bring some multifunctional furniture.
Since you don't have the luxury of a lot of space, a  reupholstered ottoman will double as a coffee table, footrest and even extra seating.
And if you have kids or pets, the soft edges make it a practical furniture option.
15. Use acrylic furniture
​
@thomas loof
Why do people love lucite and acrylic furniture?
Well, they disappear in the background because of their transparent nature. And as you can see the floor through them, they suddenly make the room seem bigger.
For example, this waterfall coffee table is a big reason this room doesn't feel visually chaotic. And if you have some DIY skills, you can make one at home.
While we're talking about furniture, let's have a few words on arranging furniture in a small living room:
First, have a focal point in your room, like TV, fireplace or window. Then, arrange furniture around this designated focal point.
It's important to note that you shouldn't get a giant furniture piece that makes the room congested.
16. Out-of-the-box furniture
​
@leanne ford interiors
Thinking outside the box wins for small living room ideas 2022.
For example, the quirky seating arrangements and out-of-the-box furniture in this room create a soft and personalized look.
Also, these two stools are perfect for any small living room decor ideas to create an eclectic and organic look.
17. Install smart lighting
​
@future plc/james french
A common tip you should keep in mind is to avoid having too many items on the floor.
And a few swing-arm sconces top the list of perfect living room lighting ideas.
They'll bring dimension to the walls and prevent the room from looking too cluttered.
18. Choose a loveseat over a bulky sofa
​
@future plc
If you choose a bulky sofa, it'll eat up your space quickly. So again, the idea here is to avoid the room from feeling congested.
In the case of a tiny living room or bedroom, consider other compact options, like a 'snuggler' or 'loveseat', for your living room sofa ideas.
It'll easily accommodate a parent and child, which makes it a practical option.
19. Choose a neutral sofa
​
@colin poole
If you still want to go with a sofa, choose a neutral one: it'll help lighten the space.
While we're talking about neutral sofas, it doesn't mean you only have to choose a plain design.
For sofa ideas for small living rooms, you can go for one with beautiful details, such as curves or buttons. That'll add character to the living room without overpowering the scheme.
20. Use ladder-style shelving to avoid using too much floor space
​
@fiona walker-arnott
By now, you'd know that a big sofa is a no-no when it comes to small apartment living room ideas.
So you'll be considering compact furniture instead.
With that, you also want to choose storage furniture with a small footprint.
Go for living room storage ideas that make the most of ceiling height, like ladder-style shelving. It'll store and display paperwork, keys, houseplants, prized possessions, and a lot of items withouot having lots of footprint.
A versatile storage solution overall!
21. Opt for built-in everything
​
@idealhome
An example of storage ideas that don't take any floor space, built-in storage is good for your living room.
For example, built-in shelving and cupboards win over freestanding.
You can even go as far as having a built-in seating area too.
That means no space is wasted – something you seriously want if your goal is to make the space feel roomier.
22. Cut the clutter: one of the best small living room decor ideas
​
@davide lovatti
I should've mentioned this at the top because there's probably nothing else that creates the illusion of more space than decluttering.
Seriously, just remove toys, plants, dishes and extra books that shouldn't be here.
Do that, and your space will instantly feel bigger and more pleasant to be in.
23. Match patterns
​
@colefax
Repeat a pattern to enhance space.
For example, you can match the blind or curtain fabric to your sofa for a trendy look.
24. Install open concept wall mounted shelves
​
You might think that open shelving will just add to more clutter.
But if you do it thoughtfully, it'll create a more light-flooded living space – something you can't achieve with closed-off or boxy shelving.
That said, don't have too much stuff on the open shelves: you want to avoid anything that'll add to the clutter.
25. Mix floor and wall colorways
​
You can use dark colors in your small apartment decorating.
There you go, I've said it.
But don't get me wrong: I'd still prefer lighter colors.
But if you're into creating a sense of warmth, try light colors on the walls with dark floors.
26. Be strategic with your artwork
​
Hang artwork directly above your sofa.
That'll add visual interest to your space and won't let people notice that it's small.
Also, you should avoid hanging artwork all around the space to avoid making it feel overwhelmed.
27. Furniture with varying height and depth
​
@thecollectivedallas
Another one of elegant small living room ideas is to use a variety of heights and depths.
For example, you can use a sofa or recliners to open up the space.
28. Add vases to your space
​
Do you want a clean look in your tiny living room but don't want it to look cluttered?
Then add vases; they bring lots of visual interest to the room that'll bring you lots of compliments.
They are also a proof that you don't have to forego decorations in order to make your space feel neat and decluttered.
29. Reorganize
​
@thespruce
Decluttering doesn't always mean you have to get rid of things. You can still get a clean look by reorganizing.
Just change the current decor plan by putting items in different places around the room.
Experiment a bit: you'll soon create an interesting setting.
30. Avoid floor cabinets
​
By now, you'd know that you want to avoid putting stuff on the floors.
I even showed you furniture for small living room ideas like seethrough acrylic furniture. Even there, the idea was to create an open feel.
So instead of floor cabinets, go for hanging cabinets or open-air coffee table storage that isn't too bulky.
Then, you can use the space for rugs or something else.
31. Monochrome with Color
​
If you have a room that's too plain, try visual oddity, like the rug in this room.
It'll spice up a dull space.
If you want to learn how to choose the right rug size for your living room, read this article.
32. The fine line
​
Decorating a small living room is tough: and this room is the living proof of that.
It's on the borderline of looking lived-in and looking messy.
You have a few shapes, sizes and colors but still, each piece has a purpose and a function.
So take some inspiration from this room.
33. Wooden wonder
​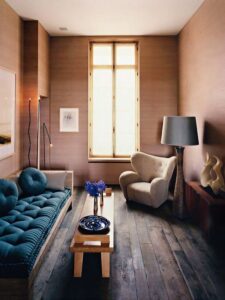 Balance is important no matter if you're decorating a small living room or a large living room.
For example, the untreated dark oak floorboards create a beautiful space in this living room.
And the earthy color scheme provides just the right balance.
34. New York shorty
​
Decorating a small living room is tricky in itself, but if you have to decorate a small New York living room, that's a whole different game.
So take inspiration from this tiny abode.
The exposed brick wall, wood floors, tall windows, everything is designer-level, so copy the scheme if you want.
35. Seabird's nest
​
The abstract white sculptures and the feather painting in this room prove that you can turn your small space into an artist's abode.
Plus, the blue area rug and flowers complete the unique theme of this room.
36. A thousand words
When it comes to interior design for small living room, this room shows how the right balance and contrast is an important element.
The 2D and 3D elements and the eye-catching wall art make it a sight to behold.
37. Size down
​
@studiodb/matthew williams
Which one would you prefer in your small room?
Comfort and big style

Or more variety
If you choose to have more variety, ditch the big furniture and have small furniture. It'll help you add more pieces that you like.
38. Be bold
​
Now, this is a tough one.
As you know, I'm all about having light colors in a small living room.
But if you're into dark colors, like Benjamin Moore Black Beauty or Sherwin-Williams Charcoal Blue, go ahead and use them.
That said, you still want to balance them out with light colors, as this room does.
39. Trick your eye
​
Want to visually open up the room? Go for a sofa with legs and no upholstery on the base.
This is a unique trick that you won't find in many places. So use it if you want.
40. Go minimalist
​
I love minimalism. It's just so neat, clean and clutter-free.
So if you have a small room that doesn't have tons of space for 35 decor pieces, minimalism is probably a good option for you.
41. Incorporate wallpaper
​
If you're feeling a little adventurous, ditch the paint altogether and use a removable wallpaper instead.
An accent wall is a good idea, and so is the wallpaper on the whole room.
42. Make sure furniture fits
​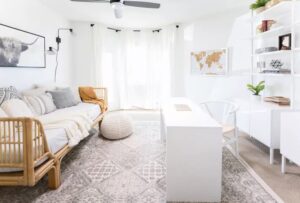 You want the furniture to fit through the front door, in the elevator, and up the stairs.
Otherwise, it probably won't fit in your studio.
43. Take risks
​
Let go of the fear…
Experiment a bit…
Try something bold and take the risk!
You never know if your style risk becomes your signature style!!
44. Be practical
You probably have guests over once or twice a week.
So don't try to impress anyone by purchasing a larger-than-life furniture piece.
Have a big comfy sofa for your family instead. And when there's extra people over, a chair or two from the dining room will do the trick.
45. Versatile end tables
​
@beatrizdacosta
End tables boost a living room's functionality.
You can use them as a work surface.
Or your kids can use it for their homework.
And when no one is using them, decorate them with books and flowers.
46. The right size rug
​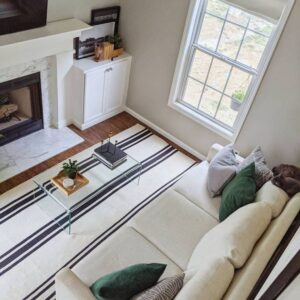 @deb monroe/ beacon valley home
Sure, you should ditch large pieces of furniture.
But a big rug is always better. It changes the whole look of the room without overcrowding it.
47. Use the vertical space for styling and storage
​
@lizzie green/ popixdesigns
You already know that floor space should be free for tricking the eye.
So for storage, and some extra style, use the vertical space. You'll have a more spacious room this way.
And remember to decorate from bottom to top. This will pull your eyes up when in the room.
48. Choose furniture that moves
​
@char and jack/ littleavonhouse
For example, you can bring an end table, an ottoman or a bar cart on wheels.
You can move it easily to get a new look. Or take it to another room if you want.
49. Floating media center
​
@sara khayatian /nextleveldesigning
Avoid a big and bulky media unit.
Instead, go for a floating media center that'll free up floor space. It's one of the best 
small living room ideas with tv.
50. Warm up with whites
​
It's an all-time classic when it comes to small living room decorating ideas.
White will make any small room seem airy, spacious and soothing. So use it with peace of mind.
An all-white room is not your thing? Well, then you have cheap plants, accent pillows or wicker furniture to bring pops of color.
51. Free your floor
​
@spacejoy
If someone asked me about the best small living room decorating ideas, I'd probably start with decluttering.
And what better place to start decluttering than with your floor.
It could be as simple as switching to hanging planters or floating shelves, or attaching tables and shelves to the wall.
52. Elevate an alcove
​
@liz calka
Turn your alcove into a pretty living room by having soft textures and calming colors.
Plus, if you score a similar briefcase from a flea market, it'll be your budget living room decor staple.
53. Think more than a living room
​
@andrew bui
Embrace a multipurpose room. For example, this pink-walled Washington DC studio can work as a dining room, living room and breakfast nook.
So follow this home decor scheme if you have a tiny space.
54. Look to generic decor stores as inspiration
​
@rikki snyder
Small flat living room ideas can get expensive sometimes.
Usually, you're paying for their ads. So instead of shopping at some designer store, go for generic decor stores.
55. Wicker disks
​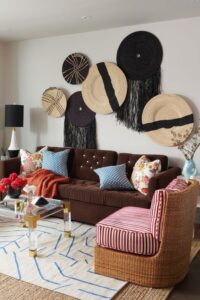 This living room has wicker disks as a focal point.
Plus, the custom sofa and rug elevate the whole look.
56. Tall vertical gallery walls
​
They'll draw the eyes upwards, so people won't notice the tiny space.
57. Use tables with built-in storage to save space
​
Living room storage can double as decor.
And in the case of small spaces that don't have closets, furniture with storage space is unmatched.
58. Corner floating shelves for planters and accents
​
Use planters, books and wall art to decorate your corner floating shelves.
59. Backless and armless sofas
​
Are you considering a full-size couch?
If you have a small space, that's a bad idea. It'll make the room congested.
Instead, consider a sleek backless sofa or a chic armless sofa for modern small living room ideas.
60. Swing chairs are cozy perfection
​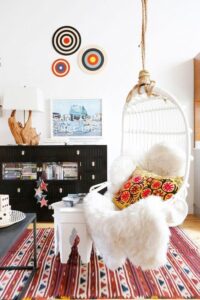 @farmfoodfamily
Swing chairs are an instant way to add glam to any small living room. They don't take any floor space.
And if you have a farmhouse living room or want to create one, they'll be a great addition. Want to take the glamour up a notch? Hang wall art that truly represents who you are!
61. Biophilic designs
​
@lust home
Take inspiration from nature. Use more raw materials. This way, your room will feel more authentic.
62. Small glass table: expose more of the floor
​
It'll help you see more of the floor. That's important if you want to give the illusion of more space.
63. Zebrahide
​
Yep, that zebrahide will turn any living room into a designer's room.
And when you have a conversation starter like that in the room, no one cares how big or small the room is!