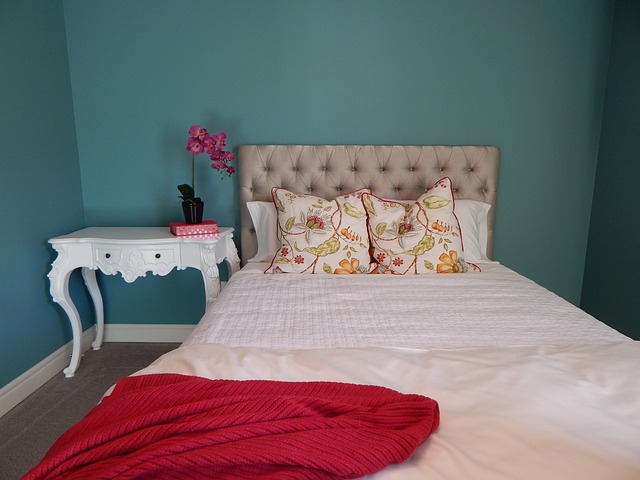 17 Oct

6 Easy And Cheap Decorating Ideas For Bedroom

Did you know that you spend nearly one-third of your entire life in your bedroom? Yes, I'm not kidding. So regardless of your design aesthetic, you deserve a bedroom that promotes a good night's rest!

That said, I know that you want to impress your guests. That's why you spend more time and effort decorating rooms other than the bedroom. But impressing others is not the reason to ignore bedroom decorating ideas. After all, you should give some attention to the room you'll spend a lot of time in!

If you neglect your bedroom, it can feel sparse and transitional. So it's important to make it cozy, tranquil, and welcoming. And if you use this guide, it does not have to cost you tons of money!

No matter if you're starting from scratch or you want to give the finishing touch to your room, these 6 cheap decorating ideas for bedroom will help you out!
6 Cheap Bedroom Decorating Ideas
1. Search Your Own Home For Bedroom Decorating Items
​
What? I know it sounds strange. But many people have items in their home that they don't use anymore. And these items tend to be bedroom decor treasure.
So search your home for these kinds of items and relocate them to the bedroom. It's like going shopping without leaving home.
For example, you might have bought a trendy lampshade for your living room once, but it didn't quite fit in. Place it near the bed and see if it works there.
Related: 81 Budget Apartment Decor Ideas: Make Your Rental Space Uniquely Yours
2. Add A Mirror
​
Whether you need a little icing to finish the look of your bedroom or you're starting from scratch, adding a mirror is one of the most affordable ways to decorate your bedroom. Mirrors make your space look larger and allow more elements to be seen.
Hanging a mirror behind your bed also lets the additional natural light come in, which you can never get enough of.
Pro Tip: Visit flea market, thrift stores, or online listings (like Craigslist) to find a used mirror. Then, spruce it up with some paint and a little bit of glass cleaner. This will help you deal with a small bedroom without having to spend lots of money.
3. Don't Ignore Art
​
I know fine art can be expensive but you don't have to purchase it. Instead, you can go with a DIY painting project or print out wall art.
Or if you have cool family photos, hanging them on the wall is one of these best cheap decorating ideas for bedroom.
You can get creative with what you hang but make sure to fill up those bare walls. Otherwise, they'll look sterile!
4. Know Where To Splurge
​
Yes, it's still the list of budget bedroom ideas. But there are some places where splurging can change the look entirely.
For example, your mattress and bed linens are a couple of items that you should not mind to spend a little money on.
5. Upgrade Your Window Treatments
​
Getting your window treatments right is one of the best bedroom makeover ideas. Think about what curtains will give great versatility and the look you want at the same time.
Similarly, pay attention to lighting in your space. It can change the entire space quickly!
6. Go For A Minimal Look
​
This is a great tip if you're decorating a bedroom on a budget. I know I talked about splurging above. But that's just for a few items. You still want to focus on spending less as well as buying less number of items.
Stick to a simple color palette and streamlined pieces. If you do it right, you'll craft a relaxing yet stylish bedroom!
So here are my 6 easy and cheap decorating ideas for bedroom. Use them to create the ultimate hibernation space for yourself!